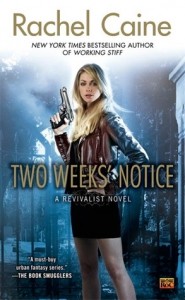 Two weeks' notice is the second book in the Revivalist series by Rachel Caine.
This is best described as an urban fantasy thriller. A mix of action, conspiracy and a touch of romance. With every twist and turn the story took I became more engrossed in the story. This is a fast paced, action packed story and not for the faint hearted. Two weeks' notice will leave you wanting more.
Set a few months after Working Stiff, we find Bryn searching for her kidnapped sister Annalie and managing a funeral home that
she inherited,.
Manny continues to tinker with the Return formula. The FBI, who are dismantling Pharmadene insists that she is
just helping them with an investigation into missing funds. But what Bryn discovers is a
government conspiracy that involves murdered and missing Pharmadene employees.
It's time to tie up all of the loose ends involving Pharmadene and Return. Making Bryn, Pat and Joe targets.
To escape a bomb she must jump from a seventh story window, to avoid abduction she jumps through a wall of glass but when the mysterious Jane finally gets a hold of her by threatening Joe's son, she has to endure unimaginable torture. While rarely explicit, the imagined horror is inescapable and made my skin crawl.
There is a real intensity to Bryn's over all character. She is
struggling with the emotional fall out of becoming one of the
living dead, and her dependence on the Return drug making
leaving her at the mercy of Manny and the FBI. I love
Bryn
as a character. She is tough, but vulnerable. Making her a heroine that will earn her place in a reader's heart. It is always refreshing to have a female lead that can hold her own.
A must read for urban fantasy fans, this is one series you don't want to miss.
The story
After dying and being revived with the experimental drug Returne, Bryn Davis is theoretically free to live her unlife—with regular doses to keep her going. But Bryn knows that the government has every intention of keeping a tight lid on Pharmadene's life-altering discovery, no matter the cost.
Thankfully, some things have changed for the better; her job at the rechristened Davis Funeral Home is keeping her busy and her fragile romance with Patrick McCallister is blossoming—thanks in part to their combined efforts in forming a support group for Returne addicts. But when some of the group members suddenly disappear, Bryn wonders if the government is methodically removing a threat to their security, or if some unknown enemy has decided to run the zombies into the ground…
Book:
Two weeks notice
Author
:
Rachel Caine
Type:
series
Publisher
Penguin